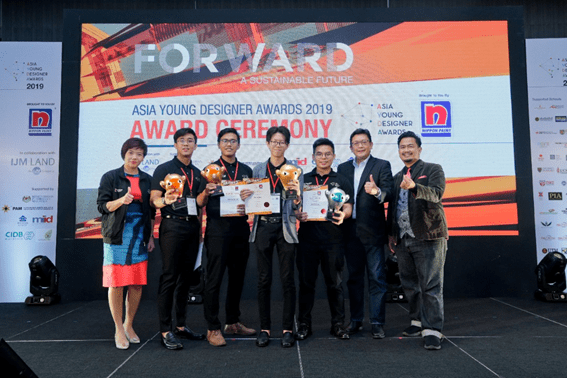 JOHOR BAHRU, 5 November 2019 – The Asia Young Designer Awards ("AYDA"), organised by the Nippon Paint Malaysia Group in partnership with IJM Land Berhad has successfully announced the winners at the ALoft KL Sentral, Kuala Lumpur. AYDA is a platform that exposes students to experience the challenges in the design boundaries and contextual issues in the architecture and interior design fields. The theme for this year's AYDA is "Forward: A Sustainable Future", which challenges the next generation of architects and interior designers to break the boundaries of current design concepts by immersing their creations with functional and social sustainability elements in an effort to connect with the community. The Asia regional competition has received 1,230 submissions from 45 universities. The competition is open to IPTA and IPTSs including major architecture schools such as UM, USM, UKM, UCSI, Taylors University, City University of Malaysia and others.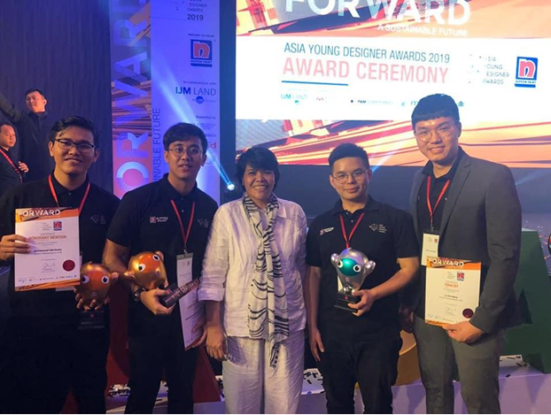 The UTM winners group photo was taken after the AYDA Award Ceremony (from left to right: Muhammad Ade Rezky, Muhammad Arib Affan Bin Mohd Hamzan, Dr. Sharifah Salwa Syed Mahdzar (representative of Architecture Department FABU UTM), Ngew Kah Seng and Lo Wei Meng)
Out of twelve (12) shortlisted finalists for the architecture category, four (4) finalists were from UTM. Three entries were received from UTM MSc Architecture students and one entry was received from a student taking the BSc Architecture course. Ngew Kah Seng, our M.Arch student mentored by Ar. Chan Wai Lai, has won Silver Award and Best Colour Choice while Muhammad Ade Rezky and Muhammad Arib Affan Bin Mohd Hamzan who were mentored by Dr. Leng Pau Chung and Assoc. Prof Dr Raja Nafida binti Raja Shaminan respectively have won an Honorary Mention. On top of that, Lo Wei Meng who was mentored  by Dr. Sharifah Salwa Syed Mahdzar won the 5th place for the AYDA 2019 finalist.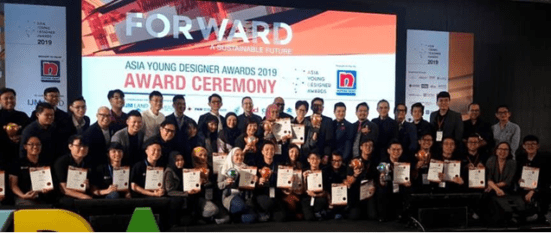 The group photo of all the winners, finalists as well as panel members for AYDA 2019
With the title named "Theatre of Play", Ngew Kah Seng has won a RM3,000 cash prize for Silver Award and RM1,000 for the Best Colour Choice award. The submission entry by Ngew is based on his M.Arch Pre-Thesis 2 (Urbanism) studio work located at the Georgetown buffer zone. Muhammad Ade Rezky's work is based on his M.Arch Final Thesis work entitled "The Fin Seafood Centre as a Third Place" located at Georgetown, Penang while Muhammad Arib Affan Bin Mohd Hamzan has submitted his work named "Torus Growth Centre". Both Honorary Mention winners have won the RM1,500 cash prize each. Our finalist, Lo Wei Meng who also won a RM200 Cash Prize has submitted his M.Arch Pre-Thesis 2 (Urbanism) studio work named "Pontian Community Transit Hub".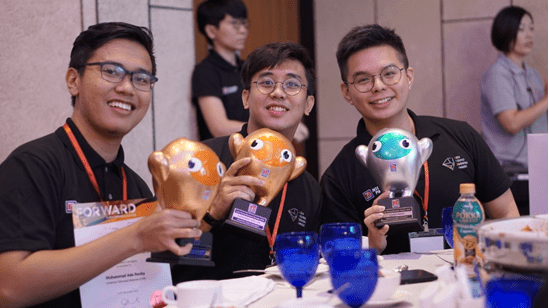 Winners from UTM Team with their trophy and certificates (from left to right: Muhammad Ade Rezky, Muhammad Arib Affan Bin Mohd Hamzan, and Ngew Kah Seng)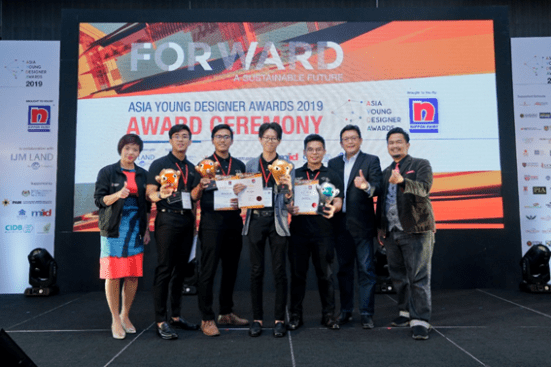 The group photo of AYDA2019  winners and the panelist of AYDA competition
AYDA 2019, now in its 12th year has grown to be a prestigious platform supported by the Ministry of Education Malaysia (MOE), Malaysian Institute of Architects (PAM), Real Estate and Housing Developers' Association Youth Malaysia (REHDA Youth), Malaysia Green Building Confederation (MGBC), Construction Industry Development Board Malaysia (CIDB) and the Malaysian Institute of Interior Designers (MIID).
Throughout the years, UTM never fails to participate and support the AYDA programme that acts as a platform for UTM students to showcase their talents and notable efforts that translates into making positive contributions and ideas to the society and development of country in architecture perspective.
To find out more about AYDA, the entries and other information, log on to https://www.asiayoungdesignerawards.com/.
Article prepared by Dr. Leng Pau Chung